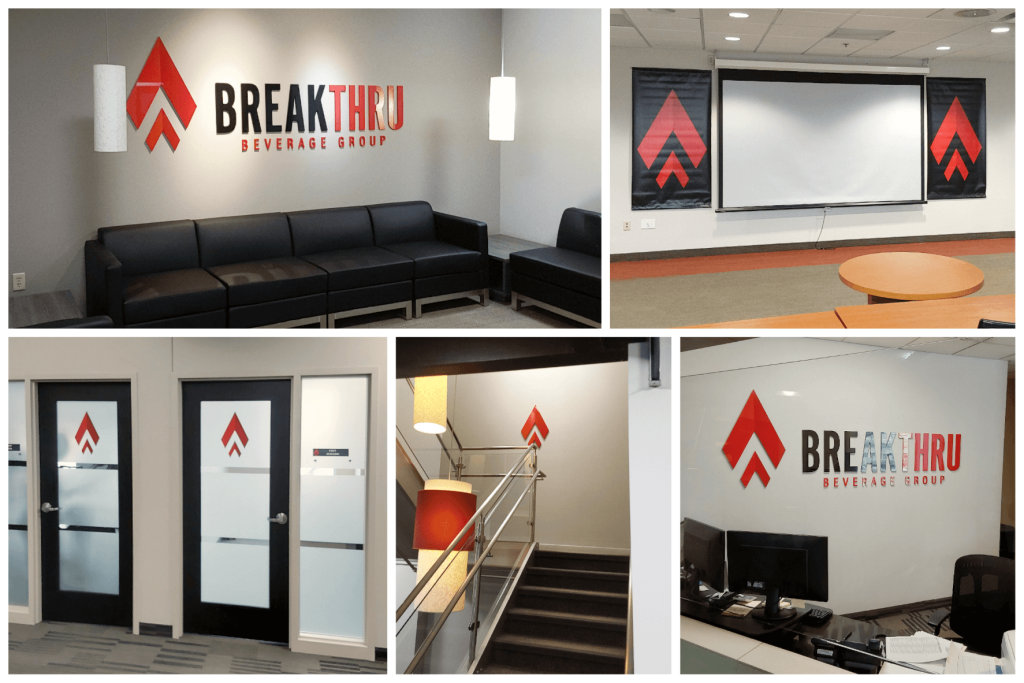 The Perfect Interior Logo Package for Breakthru Beverage Minnesota
Breakthru Beverage Minnesota recently partnered with Indigo Signs to give their office a complete makeover! Showcasing their brand throughout the building with reception, lobby & stairwell logos, office door logos, front door digital prints, and banners in all their meeting rooms.
This partnership is a perfect example of how interior signs can be used to create an impactful and lasting impression. With Indigo Signs' expertise in signage design, Breakthru Beverage Minnesota will leave a lasting impression on everyone who visits their office.
What is an Interior Sign Package and Why Does it Matter?
An interior sign package is an essential part of any business. It helps to create a professional and cohesive look by utilizing existing logos and complimenting interior elements. It also increases visibility, enhances branding, and allows you to choose from a variety of materials. In a nutshell, an interior sign package is the best way to make your business stand out from the competition and outshine other companies!
How Indigo Signs Created the Perfect Interior Logo Package for Breakthru Beverage Minnesota
They wanted to create an interior logo package that was both eye-catching and memorable, and they needed a partner to help them do it. Enter Indigo Signs! With our expertise in interior signage design, we were able to create the perfect logo package for Breakthru Beverage Minnesota—one that would make a lasting impression on their customers & employees.
What Are the Benefits of Having an Interior Logo Package for Your Business?
Your interior logo package is the foundation of your business identity. It's the visual representation of your brand, and it's essential to have one if you want to stand out from the competition. Having an interior logo package can help you create a memorable and recognizable image that customers will associate with your brand. It also helps strengthen customer loyalty, as customers will recognize your brand even when they're not actively engaging with it. With an interior logo package, you'll have a powerful tool for strengthening your business identity and building trust with potential customers.
What Design Elements Should You Include in an Interior Logo Package?
When it comes to designing an interior sign package, there are a few key elements that should be taken into account. From considering the existing logo to ensuring the signs complement the interior features, creating a professional yet eye-catching design is important to increase visibility and branding.
Tips and Tricks to Help You Create a Unique & Memorable Interior Sign Package.
Creating a unique and memorable interior sign package can be a daunting task, but with Indigo Signs' help, it can be an easy and enjoyable process. We will work with you to discuss your goals and existing elements to create the perfect sign package for your business. We can advise on the best sign materials to use within your budget while also helping to develop a sense of employee pride. These tips and tricks will ensure you have a unique and memorable interior sign package that stands out.