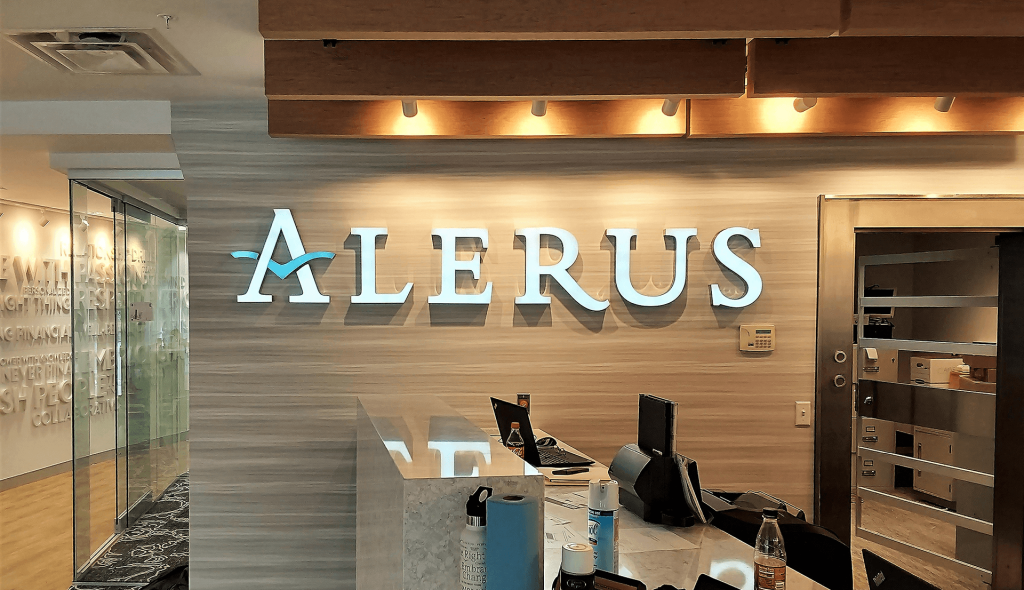 We at Indigo Signs are thrilled to showcase our latest project for Alerus! As a custom sign company, we were approached by Alerus to update their Excelsior, MN building's interior space. Their goal was to create a cohesive environment that reflects their brand while also being both functional and eye-catching.
Our team worked closely with Alerus to understand their vision and requirements. The end result was a stunning interior space that included a variety of products, such as illuminated channel letters in the reception area, wall murals behind office spaces, a dimensional word wall in the hallway, privacy vinyl on office doors, and ADA signage.
The illuminated channel letters in the reception area were particularly striking and makes a bold statement for Alerus' brand. The letters were made from high-quality materials and had a chromatic effect on the returns that added a touch of modernity to the space. Wall murals behind office spaces added visual interest to the space. The dimensional word wall in the hallway was an excellent way to convey the company's mission and values to employees and guests. The letters were designed to stand out at various depths and be easily read from a distance, creating a cohesive and professional look. Privacy vinyl on office doors ensured that employees could work without worrying about others overhearing their conversations. It was an effective way to provide privacy while also adding a decorative touch to the space. Finally, the ADA signage was an essential addition to the space to ensure that everyone, regardless of their ability, could navigate the building with ease.
Overall, we are proud of the work we did for Alerus in Excelsior, MN, and believe that it represents the high-quality products and services we provide at Indigo Signs. If you're looking to update your business interior space, contact us today, and let us help you create a beautiful and functional environment that reflects your brand!